Description
Advanced Functionality in a Super Compact Design.
Compact!
Smaller Servo Drives for Multi-axis Applications
Reduce footprint in the control panel.
The super-compact SMARTSTEP is now even smaller.
The footprint has been reduced by 52%, helping to reduce control panel size.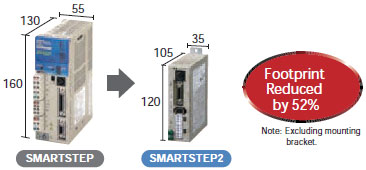 Downsized Servo Drives for Compact PLCs
Reduce your duct pitch.
SMARTSTEP2 is only 120 mm in height. By mounting it onto the same duct as the compact CP1L PLC, the duct pitch can be reduced, minimizing control panel space.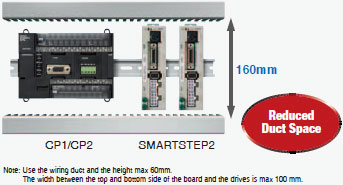 Easy!
Easy Adjustment
Realtime autotuning sets the optimum gain.
An autotuning function calculates the device load in realtime and automatically sets the optimum gain, simplifying the adjustment procedure.
Easier Installation
Mount the Servo to a DIN Rail in one step.
The Servo Drive can be mounted onto a DIN Rail in a single step by using the DIN Rail Mounting Unit (sold separately) for easier assembly and easier maintenance replacements.
Easy Parameter Settings for Mass Production
Use the Parameter Unit as a copy tool.
Parameter can be easily set for many Servo Drives using the Parameter Unit, enabling easier assembly work in mass production lines.

Advanced Functionality!
Reduce Tact Time
Achieve high-speed positioning and movement.
The command pulse frequency at 500 kpps is twice as fast as previous OMRON models, enabling high-speed and high-precision control.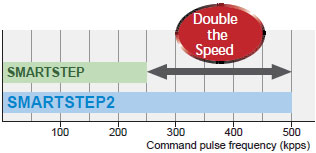 Check the Present Position
Monitor positioning errors with a feedback pulse.
The present position can be checked from the host using the feedback pulse sent from the Servo Drive to the Controller, allowing device errors to be monitored.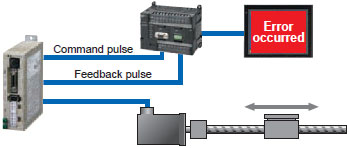 Change Pressing Force
Torque limiting function.
Set two torque limits, and switch between the two limits depending on the application, such as pressing or part insertions.

Reduce Mechanical Vibration
Quick suppression of vibration with an adaptive filter.
The vibration frequency is automatically measured to remove vibration. Even if the resonant frequency changes, realtime evaluation automatically follows the changes to reduce the effect of vibration due to low mechanical rigidity, such as for conveyer belts.

Reduce Tact Time
High-speed positioning with vibration control.
Mechanical vibration at the stop position caused by low mechanical rigidity can be suppressed by removing the vibration frequency.