Omron PLC Programming
With over 25 years experiences in industrial automation, we are chosen as an authorized system integrator of some automation brands such as OMRON, DELTA, and MITSUBISHI in Indonesia. We have done several projects under those brands for many local and multinational companies. Our experts are trained professionally by our principal to operate and integrate all factory automation parts and build the industrial system that meet their goals in achieving cost savings and production/logistics efficiency and optimization.
OMRON PLC Programming
Who doesn't know OMRON PLC Software? OMRON is very popular brand in industrial automation. Yes, the software's name is CX-Programmer / CX-One (1 package of OMRON Software inc.software for Servo, Inverter, PLC, etc). It's not a free software but companies are willing to pay for this software. OMRON is used worldwide and many industries / applications are installed using OMRON System since long time ago. It gets update all the time.
Universities / Schools in Indonesia usually use OMRON PLC for basic learning in PLC Subjects, therefore, most engineers are familiar with the use of this software. And here's some looks of the software: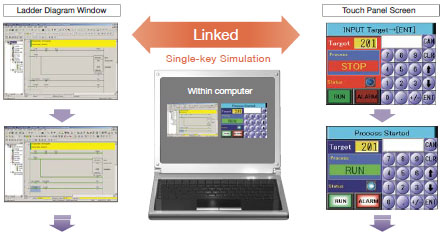 Getting know more about plc programming. Plc programming has the same basic and logics, however it depends on our engineer which software they are more popular with in order for them to troubleshoot or do a simple project and it will affect them in choose what PLC brand they should choose.
We are chosen as authorized distributor and system integrator of OMRON in Indonesia. Therefore, with over 25 years' experience and holding this authorized title, our portfolio on different projects and different industries from simple to high complex projects and it shouldn't be questioned. Range of products have been used in our projects including SCADA systems on the projects. We have done projects with OMRON Brand in setting up new factory and integrate new production line such as Non-Woven Industry, F&B Industry, Ceramics Industry, Pharmaceutical Industry, Manufacturing Industry, Wood Industry, etc.  For anyone needs to improve skills in programming MiSEL also offer training program for your company's staff.
Call Us Now